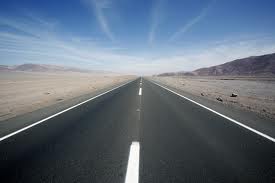 Vision
, what a wonderful gift. I never know what to be thankful of the most a working set of eyes or all the girls out there that make me appreciate them!!
But honestly, when it comes to motorcycling, your eyes are your most powerful tool and still the most neglected ones.
"how fast would you be going if you were blindfolded?"
A lot of fast track riders, ride without using their eyes particularly well, they run from near point to near point, never using their eyes with the skills to open their options. You can see this on the road when they are no longer fast, they are Pattern perfectors. They run into the same problems when you start to race because now the world and their patterns are changing and they have to be able to adapt to get past the rider in front or just because the rider in front is now dictating when they brake, accelerate and corner to some degree.
No the eyes have it; they are our most powerful tool when riding. Seeing further, clearer and in the right way WILL MAKE YOU FASTER AND SAFER I guarantee it, so how much do you understand about how we "see" and with that information what do you do in your riding to improve your vision??
So how does that work? Firstly, it's not actually about what you see; it's all more complex than that. "Seeing" is actually about the physical process of gathering images (or light) and then our brains ability to turn that into meaningful information and then acting on it.
So in order to use our vision to our advantage we need to know how best to ensure our eyes see the right things, our brains can interpret that correctly and we have time to work through and act on that information.
Travelling at 100Kph objects that are immediately travelling past us, what you would see if you looked sideways, are moving at 27.8 (rounded up) Metres per second. They will have travelled past you from front to back in less than a 1/15th of a second. Would you have time to identify what the "image" was let alone decide a course of action based on that? However a distant object, although still travelling toward us at the same 27.8ms is within our view for a much longer time, in fact you should be able to work out that if it is 300Mtrs in front of us it will be slightly longer than 10secs before we are on top of it, Plenty of time to react.
So focussing as far in front of us is one way we can maximise the use of our vision. Techniques that open up our vision, such as lines through corners that allow us to see through the corner further sooner for instance. The result of looking and focussing further in front of us is that we give our brains time to decipher and formulate plans based on that information. What we "feel" is that we have time, things are moving slower and our stress levels go down. If I want to stress you I just need to ask you lots of questions and reduce the time you have to answer them.
THE FURTHER IN FRONT OF YOURSELF YOU ARE LOOKING, THE SLOWER THINGS WILL MOVE, THE MORE RELAXED YOU WILL BE.
Another impactful thing about our vision that we should know is that we were breed as hunters. Our eyes are together on the front of our heads, their fields of vision overlap providing us with what is known as binocular vision. We use this for our depth perception, or as motorcyclists, to a great degree as our speed sensors. Further our brains are tuned to deliver pretty much only this binocular vision zone to our conscious brains, this explains why when our peripheral vision picks up something of interest, we immediately and almost compulsively move both our eyes to focus on that spot, bringing it into our conscious focus.
Think about that, look at what ever you are looking at and let yourself become aware that it is actually a relatively small area that you can actively "see", yet you feel very uncomfortable if you are forced to look at that SAME small area through a tube and exclude your peripheral vision.
That is because; although our conscious minds only get to see a small part of our view we are actually processing it all, all the time, looking for things that deserve our attention. So you really need to work against your brains natural instincts or you will continually have your eyes dragged back down to your wheels.
WHILST RIDING THE DISTANCE DESERVES ALL YOUR ATTENTION, BUT YOU NEED TO CONCENTRATE OR YOU WILL BE DRAWN BACK TO CLOSE THINGS TO YOUR DETRIMENT.
Think about that for a moment from a rational point of view, if you look at the corner you are in and see a patch of gravel right in front of your tyre, say two metres in front, can you identify it, plan an action and move the bike to avoid it, all in less than 1/15th of a second? So why do you keep looking at the corner your in and overloading your brain with demands to process information faster than you possibly can cope with whilst ignoring the information that is coming at a rate you can easily keep up with.
humans have a binocular vision zone of about 120 — 180 degrees; A dog has about 90 degrees. At 100Kph anything outside our 120 degrees is so close to us we won't have time to react at all, so don't keep looking!!!
LOOK UP, LOOK DISTANT AND KEEP LOOKING AT THE DISTANCE.
Next consider where your focus should be? If you are looking at the distance the closer things will be out of focus right? Firstly we only need focus to see detail, the human eye has an f- number of about 2.55, whereas for a standard Camera it is 1.8 we never focus as sharply as we think we do, unlike an eagle we could not pick out a rabbit in a field 1000mtrs away. Our brains are specialised to interpret this information from a wide zone of focus (Reading wasn't invented when we were :-)).
FOCUS ON THE DISTANCE; YOUR VERY SMART BRAIN AND PERIPHERIAL VISION WILL TAKE CARE OF THE REST.
Ever watched a dog chase a ball, or track a rabbit? They get them completely focussed into their binocular vision (remember that 90 degree overlapping section) and they track them like a heat seeking missile, their bodies are almost hardwired to follow their focus. Where they look is where they go and their focus is completely upon that rabbit.
We are not dogs, but we're not far away from it, our binocular vision is 120-180 degrees but we will go were we are looking. It's not a saying us motorcyclist use, its a hardwired reaction that if we are not consciously overruling we will follow.
LOOK WHERE YOU WANT TO GO!!.
The last thing is look for the things you need to know about. The reason I bring this up is because our ability to "see" is based on our brains interpretations. There is a problem with that because we pull in so much information at such a rate our brains attempt to cope by doing filtering, literally dropping out things that are not important to us.
A very famous experiment asks a number of students to watch a movie and note how many times a ball is passed between the white team members (there is a white and black team). During the movie a gorilla walks through the scene, most students do not notice the gorilla!!!! It got filtered out while they were focussing on counting the white teams passes.
WHILE YOUR RIDING FOCUS ON WHAT YOU NEED TO BE SEEING!!!!
Or you will become like the car driver who says "I looked but I didn't even see you!!!!".